Power Pie! Super Stacked Protein Snack

Snackin' on the moon Just hits different
Packed With 14 Grams Of Protein
NON-GMO Verified!
Same Classic MoonPie® Taste!
WHY THE
POWER PIE

IS AWESOME

Inspired by the iconic MoonPie®, Power Pie™ is a milk chocolate covered, non-GMO, super stacked protein snack built with all-natural ingredients that sandwiches two soft & chewy cookies together with a creamy marshmallow filling, delivering 14 grams of FINAFLEX® protein in every deliciously powerful pie!*
FULLY DISCLOSED INGREDIENTS
FULLY DISCLOSED INGREDIENTS
Whey Protein Isolate | 14g
...specifically processed to reduce fat and lactose content, which can help you maximize the nutritional value. By eliminating unnecessary components, this process leaves behind a purer form of concentrated protein that many people find easier to digest than other protein options.*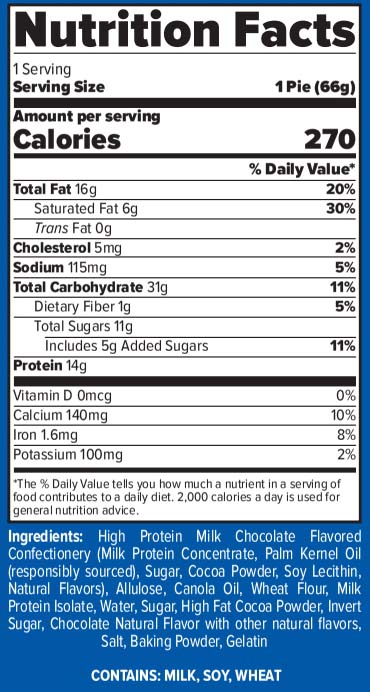 NON-GMO VERIFIED
Genetic engineering not only pollutes your body with unnecessary chemicals and additives, but it also pollutes our earth. The excessive chemicals pumped into the soil and land used to cultivate genetically-modified foods can lead to increased erosion, deforestation, and air pollution. NON-GMO choices are not only the right choice for your body but also for the planet. FINAFLEX® decided to check the "alien" ingredients at the door and only choose Non-GMO options when building what will soon be the most popular protein snack in the galaxy.*
*These statements have not been evaluated by the Food and Drug Administration. This product is not intended to diagnose, treat, cure or prevent any disease. By using our site, you're agreeing to our use of cookies, intended to offer you a better site experience.
FINAFLEX® has hands on your order from the moment we spark the idea for a supplement until it ships (and we'd control that too, if we could). PREMIUM QUALITY EVERY TIME, That's our GUARANTEE.