Engage

Ready to UNLEASH THE FREAK that sleeps inside you?*
10.5g Creatine
1200mg Alpha GPC
8g Citrulline Malate
3200mg Beta alanine
360mg Caffeine
WHY
ENGAGE

WORKS

The dynamic ENGAGE formula contains clinical amounts of the 5 most powerful, influential and rockstar-like ingredients studied inside the lab and proven on the field and in the gym. Creatine, Citrulline, Beta-Alanine, Alpha-GPC, and Caffeine engage as ONE. Train, harder, longer, and stronger with ENGAGE Pre Workout!*
FULLY DISCLOSED INGREDIENTS
FULLY DISCLOSED INGREDIENTS
CREATINE | 10.5g
...the most research-backed performance supplement to date. It has massive effects on strength, power output, and muscle mass.*
ALPHA GPC | 1200mg
...a powerful nootropic that helps with focus. If your brain is on point, your workout will be, too!*
CITRULLINE MALATE | 8g
...aids in increased muscular energy & volumization, boosts recovery, and assists in increasing endurance.*
BETA ALANINE | 3200mg
…helps to produce carnosine which plays a role in enhancing endurance during intense exercise.
CAFFEINE | 360mg
...aids in improving cognition and alertness, antagonizing adenosine receptors, inhibiting phosphodiesterase (PDE), increasing epinephrine/norepinephrine/dopamine release, and enhancing intracellular sodium/potassium pump activity.*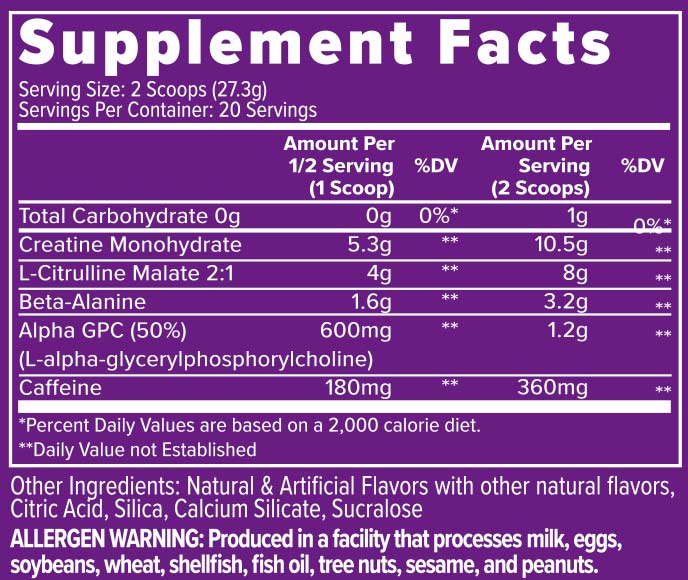 *These statements have not been evaluated by the Food and Drug Administration. This product is not intended to diagnose, treat, cure or prevent any disease. By using our site, you're agreeing to our use of cookies, intended to offer you a better site experience.
FINAFLEX® has hands on your order from the moment we spark the idea for a supplement until it ships (and we'd control that too, if we could). PREMIUM QUALITY EVERY TIME, That's our GUARANTEE.